Eldar Eldarov y David Egan ganaron el Cazoo St Leger en una emotiva tarde en Doncaster mientras las carreras rendían homenaje a Su Majestad la Reina.
En lo que resultó ser una especie de sprint por la recta de Town Moor, fue el contendiente pacientemente montado del patio de Roger Varian que mostró el mejor giro de pie para ganar por dos cuerpos a Haskoy y Frankie Dettori, que terminó segundo. pasando el correo.
Sin embargo, la interferencia con el cuarto Giavellotto significó que se colocara detrás de ese corredor, con el favorito New London ocupando el segundo lugar después de ser tercero en cruzar la línea.
Frankie Dettori rindió homenaje a Su Majestad la Reina en Doncaster el domingo

French Claim hizo la carrera temprana con Danny Tudhope, pero se desvaneció a los tres estadios, con los líderes del mercado entrando en la contienda, incluido Haskoy, que lideró en la barandilla.
New London y Eldar Eldarov desafiaron por los costados, pero fue este último quien estuvo al mando durante un estadio, retrocediendo hacia el interior y sacando lo suficiente para llevarse el Doncaster Classic.
Anteriormente en la cartelera, Dettori rindió un conmovedor homenaje a La Reina después de ganar el Group Two Coral Champagne Stakes con astrólogo para el equipo de Andrew Balding.
La victoria fue tranquila, haciendo toda la carrera en un campo de tres corredores y ganando por más de tres cuerpos en la línea de Indestructible y el candente favorito Silver Knott, que parecía tener problemas en el suelo blando.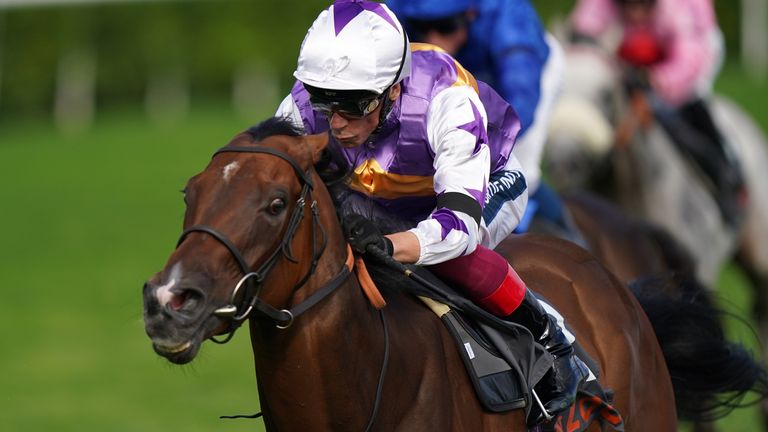 Después de la carrera, Dettori, quien montó múltiples ganadores para The Queen, dijo: "Hay un ambiente un poco vacío en la sala de pesaje. No salté por respeto y escuché, seguimos adelante pero es fresco". en la memoria
"Tenemos que lidiar con eso, pero la vamos a extrañar mucho".
Y Dettori se duplicó en el Grupo Dos Coral Park Stakes más adelante en la cartelera, con Kinross mostrando un buen giro de pie para ganar para el entrenador Ralph Beckett.
Acechó al líder Al Suhail desde el principio, antes de lanzarse hacia el interior y golpear el frente durante un estadio antes de registrar un éxito cómodo: New Energy se mantuvo bien para terminar segundo con Al Suhail en tercero.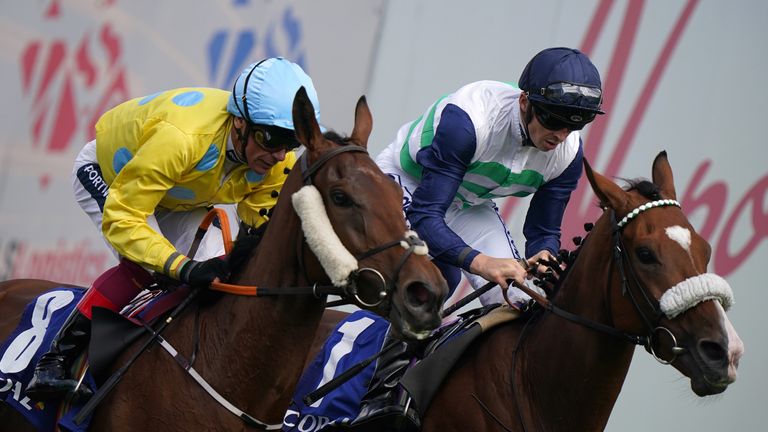 Hubo un gran impacto en la Copa Coral Doncaster del Grupo Dos, ya que el miembro del Grupo Uno, Trueshan, fue derrotado por Andrew Balding. Coltrano que disfrutó de su segunda victoria en la tarde.
El favorito 2/9 fue resuelto en la parte trasera por Hollie Doyle, pero no pudo acelerar lo suficientemente bien con un ritmo lento, con Coltrane superándolo por un cuello, con David Probert en la silla de montar.
Lismore, el primer corredor del Reino Unido para Henry De Bromhead desde el trágico fallecimiento de su hijo, Jack, corrió muy bien en tercer lugar con Dettori.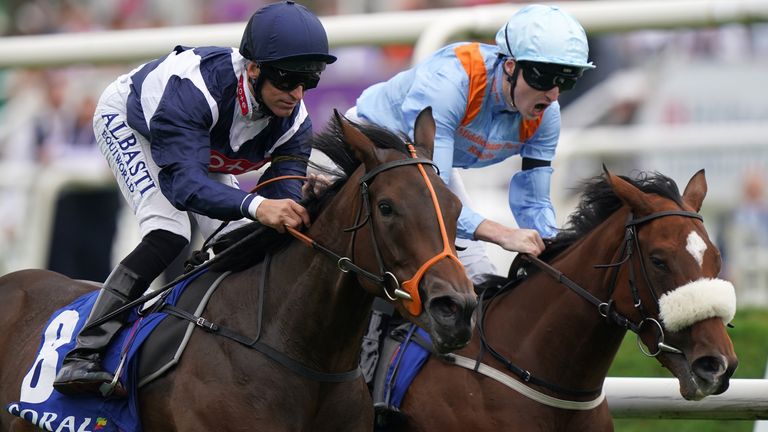 Velocista de dos años trillium tomó el Grupo Dos Coral Flying Childers Stakes bajo Pat Dobbs para el entrenador Richard Hannon, quien entrenó a varios ganadores junto a su padre para The Queen, incluido el Agente Libre en el Chesham Stakes de 2008.
Trillium superó a su compañera potranca The Platinum Queen y Oisin Orr en un final reñido, arrollando a este último que hizo toda la carrera hasta las últimas 50 yardas.
En un head-bobber, el primero se impuso por una cabeza corta, con cuatro cuerpos más atrás que el contendiente irlandés Crispy Cat, que viajó bien hacia la contienda, pero no pudo ir con la pareja delantera en los dos últimos furlongs.