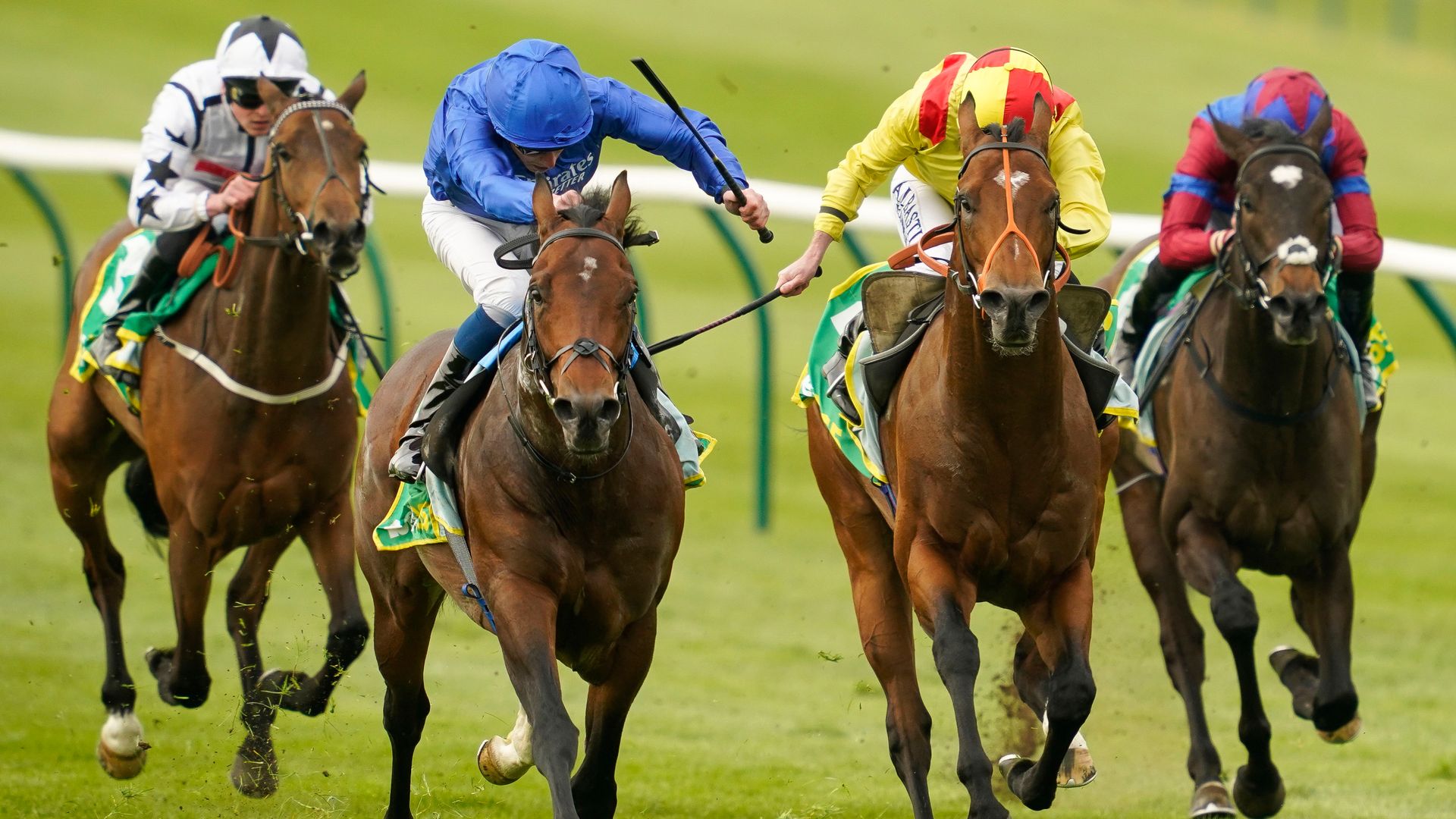 Parece poco probable que New Science forme parte del equipo Qipco 2000 Guineas de Charlie Appleby a pesar de su impresionante actuación en el Bet365 European Free Handicap en Newmarket.
El manejador de Moulton Paddocks posee una mano formidable en la división de tres años, con el campeón juvenil de la temporada pasada Native Trail y su compañero Coroebus los dos primeros en las apuestas para el primer Clásico del año.
Native Trail intentará cimentar su lugar como favorito de Guinea en Craven Stakes, mientras que Coroebus pondrá a prueba sus pasos en Rowley Mile antes de competir.
New Science, que fue derrotado con grandes probabilidades en Meydan en febrero, tenía una oportunidad de 3-1 para su regreso a la acción europea con William Buick.
Y aunque el potro de Lope De Vega dio peso y una sólida paliza a sus cuatro rivales, parece dispuesto a eludir a las Guineas a favor de una inclinación en el Jersey Stakes de Royal Ascot.
"Lo derrotamos en Dubái, pero también logré derrotar al Master Of The Seas en la regata Listed de Dubái el año pasado y terminó segundo en las Guineas", dijo Appleby.
"Teníamos confianza en que este caballo saldría adelante y lo ha hecho. Su trabajo en casa ha sido bueno, tenía una buena forma de dos años y afortunadamente lo trajo a la mesa esta tarde".
"William dijo que no querría ser tan atrevido como para decir que definitivamente recorrerá una milla. Tiene mucho ritmo natural, así que dejaremos que el polvo se asiente y veremos dónde estamos después de la próxima semana o 10″. dias."
Agregó: "Personalmente, lo veo como un caballo de Jersey hecho a medida, pero ya veremos. La gente está soñando en esta época del año y la realidad entra en acción durante las próximas dos o tres semanas y estoy seguro de que todos cambiarán su opiniones de lo que tienen y dónde los van a colocar.
"Tenemos mucha confianza en dónde estamos en este momento y el equipo está en buena forma, que es lo más importante. Solo tenemos que encontrar su nivel en el futuro".
Powerdress (9-1) parece haberse ganado un lugar en el equipo Royal Ascot de Richard Hannon después de tener un comienzo ganador en su carrera en el bet365 British EBF Maiden Fillies' Stakes.
Montada por Sean Levey, la hija de Dandy Man se lanzó tarde para levantarse y vencer a Yahsat por una cabeza, con la pareja casi dos cuerpos por delante del resto.
Hannon dijo: "Nuestros hijos de dos años van bien. Esta potranca no ha hecho mucho y quiere seis furlongs, pero a Martin (Hughes, propietario) le gusta esta reunión, así que dijimos que correríamos".
"Me encantó su actitud hoy. Parecía que iba a ser segunda, pero bajó la cabeza y volvió a entrar aquí como si nada hubiera pasado. Generalmente así es como se comportan los muy buenos y espero que eso sea ella".
"Ella podría ir a un National Stakes en Sandown o tal vez directamente a Royal Ascot y recorrer seis estadios allí (Albany Stakes).
"Ella es bastante profesional, así que no estoy seguro de que se necesite más experiencia y estaba lo suficientemente en forma para ganar la primera vez, así que obviamente lo hace ella misma".
Hubo un final aún más cerrado en el Weatherbys Bloodstock Pro Handicap, con el Gale Force Maya entrenado por Michael Dods y el Bergerac de Kevin Ryan brillando junto al poste casi como uno solo.
Al juez le tomó un par de minutos decidir que la favorita 11-2 Gale Force Maya había registrado su segunda victoria en el campo y la distancia por una nariz debajo de Connor Beasley.
"Cuando pasaron la línea, pensé que habíamos ganado y luego, cuando vi la repetición en la televisión, pensé que nos habían ganado", dijo Dods.
"Le dije a Kevin después que me conformaría con un dead-heat, ¡especialmente cuando cené con Kevin y los dueños de Bergerac anoche y pagaron!
"Sentí que nuestra yegua necesitaría correr hoy, pero es muy genuina y ambiciosa y le encantan los terrenos rápidos.
"Hay una carrera listada aquí para yeguas a fin de mes y ese es el plan. Mientras el terreno sea rápido, ella regresará aquí".