HANOI—Hubo un breve momento en que todos contuvieron la respiración en un Palacio de Deportes de Hanoi repleto. En una batalla de campeones olímpicos, Sanikun Tanasan de Tailandia logró una ligera ventaja al principio de la final de levantamiento de pesas femenino de los 31º Juegos del Sudeste Asiático.
¿El único que no está nervioso?
Hidilyn Díaz.
"Tenía mucha confianza porque hemos estado estudiando a mi oponente, así que sabemos que es fuerte en arranque, pero no en envión", dijo el viernes la primera y única medallista de oro olímpica del país.
Tanasan, ganadora de oro en los Juegos de Verano de 2016 en Río de Janeiro, llevó el peso más pesado en arranque, levantando 93 kilogramos frente a los 92 de Díaz. Pero cuando llegó el envión, Díaz demostró que todavía era la reina de la categoría de peso de 55 kg al levantando 114 kg para ganar la medalla de oro con un total de 206 kg.
No fue el mismo espectáculo que presentó Díaz en los Juegos Olímpicos de Tokio, pero fue suficiente para impulsar el viaje del campeón de 31 años hacia los Juegos Olímpicos de París 2024.
"Para mí está bien. Estoy feliz de volver a entrenar y, ya sabes, estar en competencia nuevamente", dijo Díaz.
"Siempre quiero dar lo mejor de mí; ella es una olimpica [gold] medallista y tuvimos que diseñar una estrategia para todo", agregó.
Tanasan, quien ganó la corona de los 48 kg en Brasil pero subió a una división más pesada para perseguir a Díaz, levantó 104 y 110 en envión. Terminó con una plata, 3 kg por debajo del primer premio.
El presidente de Samahang Weightlifting ng Pilipinas, Monico Puentevella, dijo que incluso cuando la federación ha alineado herederos potenciales, Díaz "seguirá siendo el corazón y el alma del levantamiento de pesas filipino".
Y hay esperanza de que el oro de Díaz le devuelva la vida a una campaña filipina que se ha desacelerado en los últimos días. El equipo de Filipinas tiene la vista puesta en un tercer o cuarto lugar en la clasificación general, incluso cuando cayó al quinto lugar a partir de las 7 pm del viernes.
El país solo tiene 43 medallas de oro para exhibir junto con 57 de plata y 80 de bronce. El anfitrión Vietnam tiene una cuenta insuperable de 158-95-91. Tailandia está en segundo lugar (65-72-102), Singapur tercero (47-44-62) e Indonesia cuarto (46-66-59).
"Todavía tenemos una gran cantidad [of golds to expect," said Philippine Olympic Committee president Abraham "Bambol" Tolentino. "Singapore has no more."
"If we all work hard as one, we will win as one," said commissioner Mon Fernandez of the Philippine Sports Commission, who has been diligently attending to the athletes' in his capacity as chef de mission. "This is not the time for us to be discouraged since reclaiming No. 3 is still very much possible."
Friday's golds came in trickles, but they helped nonetheless.
Sibol crushed Indonesia, 3-1, in Mobile Legends (ML): Bang Bang for the country's second crown in esports. The Philippines, which won three gold medals in 2019, also ruled the women's Wild Rift.
The ML champion team, composed of Danerie del Rosario, Kyle Soto, Salic Imam, Jonmar Villaluna, Russel Usi, Lee Gonzales and Dexter Alaba, took Friday's first gold for Team Philippines at National Convention Center.
In the late afternoon at Hoai Duc Gymnasium, Shugen Nakano defended his men's 66kg title for the country's third gold medal of the day.
Nakano was almost robbed of the gold as the referee failed to stop the fight even after time had ran out. At that moment, Nakano, leading 1-0, was in an arm-lock by Hoang Phuc Troung of Vietnam.
"Had we not reacted, the referee wouldn't have called it. Maybe he was waiting for our boy to tap out which he didn't do. Shugen just endured it up until the match was called," said Philippine Judo Association president Dave Carter.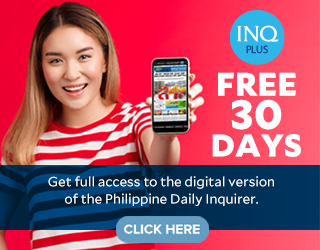 Read Next
Subscribe to INQUIRER PLUS to get access to The Philippine Daily Inquirer & other 70+ titles, share up to 5 gadgets, listen to the news, download as early as 4am & share articles on social media. Call 896 6000.
For feedback, complaints, or inquiries, contact us.