El jugador de bolos de Inglaterra James Anderson dice que el enfoque liderado por Brendon McCullum y Ben Stokes, y la "inteligencia emocional" de este último, ha revitalizado su carrera internacional.
La cuenta de Anderson de 177 partidos en la Prueba lo ubica en segundo lugar en la lista de todos los tiempos detrás de Sachin Tendulkar de India pero, a la edad de 40 años, todavía está sopesando los desafíos futuros en lugar de revivir glorias pasadas. En diciembre celebró sus 20 años como jugador internacional.
Disfrutar de su trabajo ha sido aún más fácil desde que Stokes y McCullum revisaron todo el enfoque de Inglaterra y, con ello, sus resultados.
Eliminar el miedo al fracaso y reemplazarlo con el deseo de entretener ha llevado al equipo a nueve victorias en 10 pruebas, creando un rumor que ya se está extendiendo por todo el mundo del cricket.
Anderson jugó su papel en las victorias de la serie contra Nueva Zelanda y Sudáfrica en casa el verano pasado, además de la victoria contra India en la quinta Prueba retrasada de la serie 2021, antes de tomar ocho terrenos en sus dos primeras victorias en Pakistán durante un histórico 3-0 serie Barrida limpia.
Equipo de Inglaterra para la gira de prueba de Nueva Zelanda
Ben Stokes (capitán), James Anderson, Stuart Broad, Harry Brook, Zak Crawley, Ben Duckett, Ben Foakes, Will Jacks, Dan Lawrence, Jack Leach, Ollie Pope, Matthew Potts, Ollie Robinson, Joe Root, Olly Stone.
Tanto los recién llegados como los veteranos se han sentido energizados por el enfoque de ataque, que los verá enfrentarse a Nueva Zelanda a continuación en una serie de dos pruebas en febrero y Anderson anticipa una serie de gran éxito cuando intenten recuperar las Cenizas contra Australia a finales de este año.
"Es emocionante estar en este equipo. Cualquiera que sea el jugador que juguemos será divertido, le daremos una buena oportunidad y Australia en el verano podría ser simplemente increíble", dijo.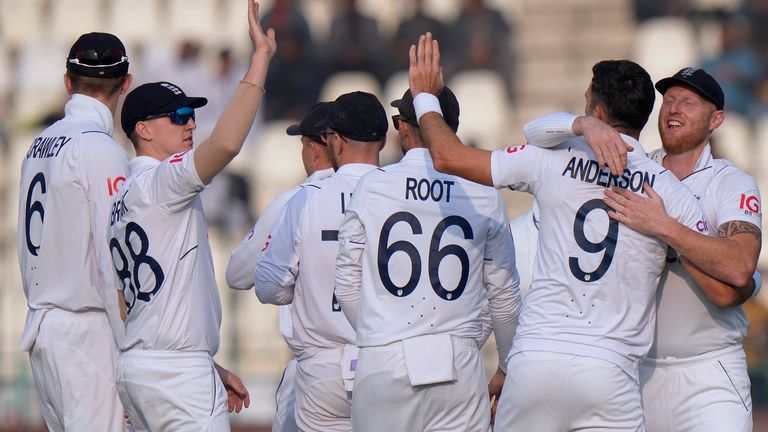 "Para ser honesto, no puedo verlos haciendo nada más que ir cara a cara. Creo que van a combatir el fuego con fuego y eso lo hará tan explosivo y emocionante".
"Hay algo malo contigo como jugador si no disfrutaste esta forma en que jugamos. Es pensar y hablar constantemente sobre el juego de una manera positiva, así que sí, me ha revitalizado".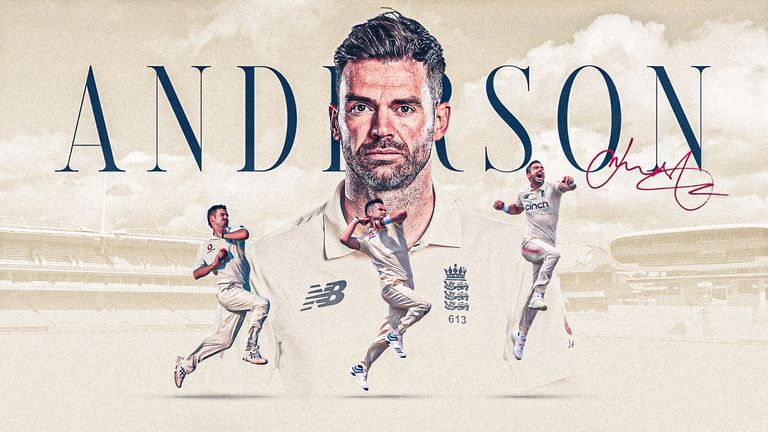 Anderson produjo un jaffa para eliminar a Mohammad Rizwan de Pakistán, ya que su forma no muestra signos de desaceleración.

Anderson elogió el liderazgo y la convicción de Stokes, citando su insistencia en que un grupo de bolos cansado fuera excusado de una audiencia con el primer ministro de Pakistán, Shehbaz Shariz, luego de una invitación tardía en Rawalpindi el mes pasado.
"Simplemente dijo, 'los jugadores de bolos no van, necesitan recuperarse'. Es lo suficientemente fuerte como para hacer eso", dijo Anderson.
"Siempre lo he tenido como un tipo que predica con el ejemplo. Pero él es simplemente increíble, la inteligencia emocional alrededor del grupo, el manejo de los jugadores. No sabía que tenía este lado de él".
"Definitivamente hubo un momento en el que pensé que podría ser [for my England career]. Hubo un poco de ira y decepción. [at being left out of the tour to the West Indies].
"Solo estaba tratando de darle sentido y no tomar decisiones precipitadas.
"No soy el jugador de bolos completo. No he jugado el juego perfecto ni he lanzado el juego perfecto.
"Siempre hay cosas que creo que puedo arreglar. Quiero ser el mejor en todo lo que hago; si soy una basura en algo, lo dejaré".
Calendario Nueva Zelanda vs Inglaterra
Primera prueba (pinkball, Bay Oval, Mount Maunganui) – 16-20 de febrero
2.ª prueba (Wellington) – 24-28 de febrero
Anderson se quedó sin palabras después de que Mark Butcher le preguntó sobre jugar con Nasser Hussain