Collin Morikawa tarjetas siete bajo par 66 el viernes para tomar ventaja de dos tiros en Hawai; JJ Spaun y Scottie Scheffler, sus rivales más cercanos, mientras que Jon Rahm cae al sexto lugar junto a Matt Fitzpatrick; Mira la tercera ronda el sábado en Sky Sports Golf a partir de las 17:45
Última actualización: 01/07/23 7:52 a. m.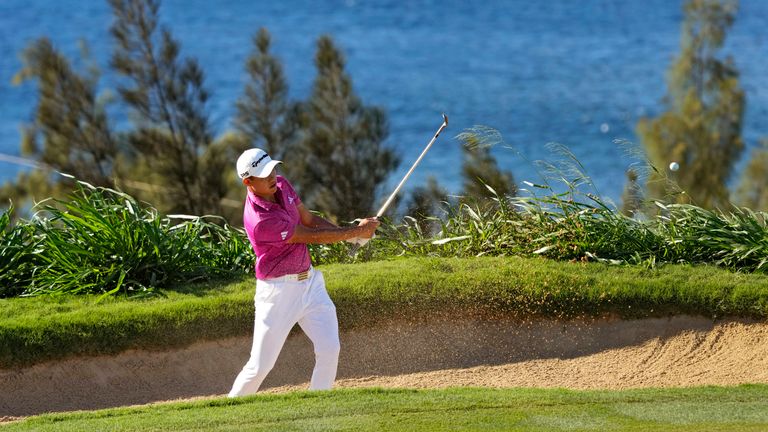 Lo más destacado de la segunda ronda del Sentry Tournament of Champions en el PGA Tour

Lo más destacado de la segunda ronda del Sentry Tournament of Champions en el PGA Tour
Collin Morikawa tomó la delantera en el segundo día del Sentry Tournament of Champions en Hawái, superando a JJ Spaun y Scottie Scheffler.
El estadounidense terminó el día con siete bajo par 66, para un total de 16 bajo par 130.
Le dio una ventaja de dos golpes frente al campeón del Masters, Scheffler, y Spaun, que ocupa el puesto 86 en el ranking.
Jordan Spieth, al igual que Morikawa, disparó un 66 en la segunda ronda para tomar el cuarto lugar con 13 bajo par y Tom Kim de Corea del Sur está en quinto lugar con 12 bajo par luego de un 69.
Jon Rahm cayó en la tabla de clasificación a compartir el sexto lugar junto con Matt Fitzpatrick de Inglaterra con 11 bajo par.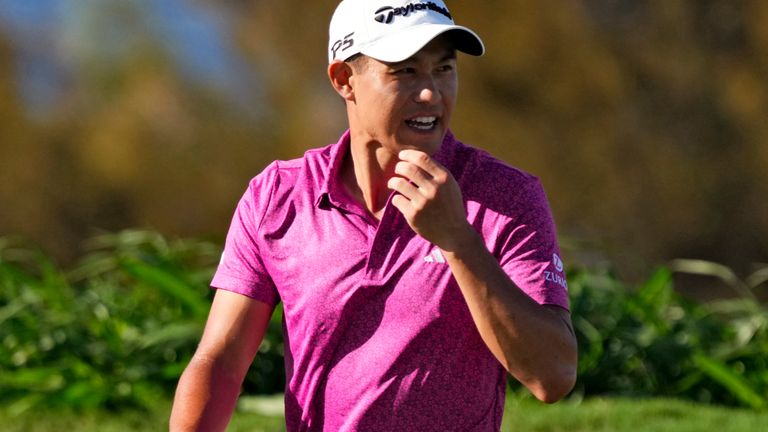 El Torneo de Campeones, que incluye a 39 jugadores, es el primero de 17 eventos designados del PGA Tour con premios elevados este año. En el pasado, este evento estaba limitado a los jugadores que ganaron un torneo el año anterior, pero el campo de 2023 se amplió para presentar a los jugadores que no ganaron en 2022, pero llegaron al Tour Championship.
Morikawa, quien terminó el año pasado sin victorias, tuvo un comienzo espectacular el viernes, logrando birdie en cuatro de los primeros cinco hoyos. Agregó tres birdies más en los últimos nueve antes de concluir con tres pares consecutivos.
Golf en vivo del PGA Tour
7 de enero de 2023, 21:00
Vivir
Scheffler se lanzó a la contienda consiguiendo birdies en cada uno de los últimos cuatro hoyos, acertando putts de menos de dos metros y medio cada vez. Su ronda incluyó nueve birdies y dos bogeys.
"Simplemente similar a ayer, bastante sólido, hice algunos buenos putts", dijo Morikawa. "Obviamente, jugó mucho más duro con el viento y las calles rodando bastante rápido.
"Solo tienes que jugar tiros y conectarlos en buenos lugares, y afortunadamente pudimos aprovechar suficientes hoyos hoy para mantener esos birdies".
Spaun hizo bogey en el cuarto hoyo par cuatro, pero no regaló otro tiro. Terminó con seis birdies.
"Lo conduje bien de nuevo", dijo Spaun. "No creo que hice un golpe de salida realmente malo. Es un poco difícil pasar por alto los fairways aquí, además de golpearlo demasiado lejos. Pero, sí, traté de mantenerme libre de errores. Tuve uno tres- putt, y ese fue el único error del día".
La ronda de Spieth se destacó por águilas en dos hoyos par cinco, el quinto y el 15. También tuvo cuatro birdies y un bogey. Xander Schauele se retiró a la mitad de la segunda ronda debido a una dolencia en la espalda.
"Esto no está mejorando", dijo. "De hecho, se siente peor cuando hago swing".
Mire los grupos destacados en el tercer día del Sentry Tournament of Champions a partir de las 5:45 p. m. del sábado en Sky Sports Golf con cobertura completa en vivo de la tercera ronda a partir de las 9 p. m.

Obtenga los mejores precios y reserve una ronda en uno de los 1700 campos en el Reino Unido e Irlanda