Universal Pictures acaba de lanzar el tráiler de la próxima comedia romántica entre Jennifer Lopez y Owen WIllson Cásate conmigo. Plantea una pregunta desde el principio. Cuando Jennifer Lopez te elige entre una audiencia de millones para ser su esposo, ¿qué dices? ¡Sin presión! ¡Estábamos esperando!
Repleto de canciones originales de Jennifer López y la estrella mundial de la música latina Maluma, Cásate conmigo llega el próximo Día de San Valentín con López interpretando a la superestrella musical Kat Valdez y Owen Wilson como Charlie Gilbert, un profesor de matemáticas-totalmente extraños que aceptan casarse y luego llegar a conocerse. Un romance poco probable sobre dos personas diferentes que buscan algo real en un mundo donde el valor se basa en los "me gusta" y los seguidores. Cásate conmigo es una historia de amor moderna sobre celebridades, matrimonio y redes sociales.
Kat Valdez (López) es la mitad de la pareja de celebridades más sexy de la Tierra con la supernova de música nueva y caliente Bastian (Maluma, haciendo su debut cinematográfico). Mientras el éxito ineludible de Kat y Bastian, 'Marry Me', sube en las listas de éxitos, están a punto de casarse ante una audiencia de sus fans en una ceremonia que se transmitirá a través de múltiples plataformas. El profesor de matemáticas de instituto divorciado Charlie Gilbert (Owen Wilson) ha sido arrastrado al concierto por su hija Lou (Chloe Coleman, Grandes mentiras) y su mejor amiga (Sarah Silverman, El programa Sarah Silverman). Cuando Kat se entera, segundos antes de la ceremonia, de que Bastian la ha engañado con su asistente, su vida da un vuelco mientras se derrumba en el escenario, cuestionando el amor, la verdad y la lealtad.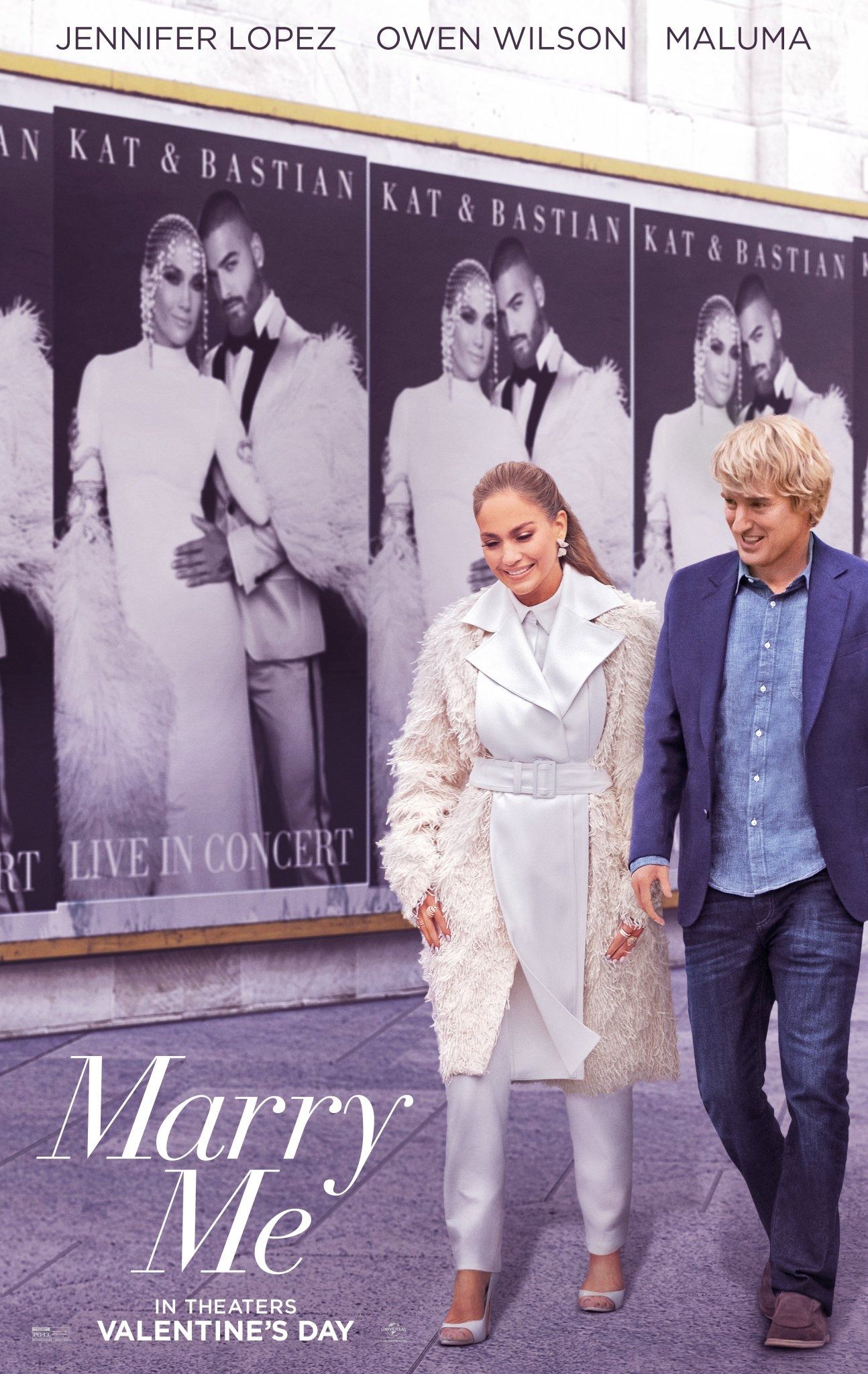 A medida que su mundo de telaraña se desvanece, ella mira a los ojos a un extraño, una cara en la multitud. Si lo que sabes te defrauda, ​​quizás lo que no sepas sea la respuesta, y así, en un momento de locura inspirada, Kat elige casarse con Charlie. Lo que comienza como una reacción impulsiva se convierte en un romance inesperado. Pero a medida que las fuerzas conspiran para separarlos, surge la pregunta universal: ¿Pueden dos personas de mundos tan diferentes cerrar el abismo entre ellos y construir un lugar al que ambos pertenezcan?
La película también está protagonizada por John Bradley (Game of Thrones), Michelle Buteau (Michelle Buteau: Bienvenidos a Buteaupia) y Utkarsh Ambudkar (mulán). Cásate conmigo está dirigida por Kat Coiro (muerto para mi, Siempre está soleado en Filadelfiapróximo ella Hulk) a partir de un guión de John Rogers (los bibliotecarios) y Tami Sagher (NBC 30Roca) y Harper Dill (el mick) basada en la novela gráfica de Bobby Crosby. La película es producida por Jennifer Lopez pga y Elaine Goldsmith-Thomas pga (buscavidas, Empleada en Manhattan) para Nuyorican Productions de Jennifer Lopez, de John Rogers para Kung Fu Monkey Productions y de Benny Medina (buscavidas, El Príncipe de Bel-Air). Los productores ejecutivos de la película son Alex Brown, Willie Mercer, Pamela Thur y JB Roberts. Camine por el pasillo del cine este Día de San Valentín, 14 de febrero, para atrapar (¡el ramo!) Cásate conmigo.
The Legend of Conan: ¿Qué podemos esperar de la última película de Conan?
Leer siguiente
Sobre el Autor